Not only is it important to cook food to the correct temperature, but it is also important to store it properly. Food is properly stored, which preserves the quality of the food and avoids spoilage and food poisoning. To understand how to properly store your food, use the easy-to-read ServSafe food storage chart on this blog together with Servsafe-Prep!
Why Proper Food Storage Matters?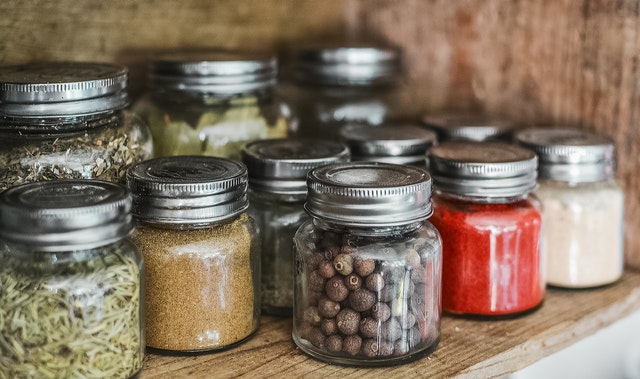 Food storage is an important process in Food Safety. Here are some of the benefits of becoming an expert in food storage:
You save money by reducing food waste, which is also healthier for the environment

Vegetables and fruit will last longer and keep their freshness

You may save money by purchasing items in bulk or when they are in season. You may also utilize them over a longer length of time without feeling rushed, which can help you relax

Fruits and vegetables may be consumed at any time of the year

Food storage systems from the past may be a pleasant pastime! Or a novel way to consume your fruits and vegetables

Many food preservation solutions do not require electricity, so you can eat healthily during a power outage or while camping

Fermenting, a traditional method of food preservation may supplement your diet with beneficial microbes.
Three Types Of Food
All foods fall into one of three categories, each with its own set of storage requirements.
Perishable Foods
These include a variety of raw fruits and vegetables, as well as meat, dairy, and eggs for people who consume them. Perishable foods include all cooked items. To be preserved for any length of time, perishable products must be maintained in the refrigerator or freezer.  Many perishable items should be consumed within 3-7 days if refrigerated (less for many animal products).
Semi-perishable Foods
Semi-perishable foods might go bad rapidly or have a long shelf life, depending on how they're stored and managed. Flour, grain foods, dried fruits, and dry mixes are examples of semi-perishable commodities. Semi-perishable items can be stored and handled correctly for six months to a year, such as in a clean, vacuum-sealed bag. Some can stay much longer when frozen.
Staple, or Non-perishable Foods
Non-perishable foods include dried beans, spices, and canned products. Unless they're handled carelessly, they won't spoil. Even if they're kept in optimal circumstances, they might start to lose quality with time.
Factors That Affect Food Storage Life
When it comes to perishable and semi-perishable foods, the general rule is that if you can't consume them right away, it has to be stored or preserved.
The following are the key factors that affect a food's shelf life while in storage:
The food itself (for instance, strawberries can degrade in as little as a day, while potatoes can last for months when properly stored)

Freshness and ripeness of the product at the moment of purchase. This is partly determined by where it was cultivated and how long it remained in transit. Even if you purchased it from a grocery store, it might have been picked recently… or not

How long was it kept and at what temperature was it maintained before you bought it?

Whether it's the refrigerator, freezer, countertop, pantry, or basement, the temperature of your food storage places

The humidity level in your food storage areas (which can change significantly based on the location of your house and what region you live in)

Food storage containers or packaging might be made of glass, plastic, foil, or linen.
Simple Steps To Safely Store Food At Your Operation
To safely store food at your operation, you simply need to follow eight basic procedures.
1. Store deliveries immediately after being inspected
For a variety of reasons, a food service operation requires well-defined storage areas and procedures. To begin with, by offering storage facilities, it will be possible to acquire materials in big enough quantities to qualify for price discounts. Second, having the option to keep supplies on-site cuts down on the cost and time it takes to order supplies and manage them once they arrive. Third, knowing the quality, amount, and sorts of supplies on hand makes menu planning much easier. It's comforting to know that if a menu item is in high demand, there are enough supplies on hand to ensure that everyone who wants it is served.
Because storage is expensive in today's market, many food service operations are decreasing the quantity of stock they keep on hand. Not only must space be provided, but security must also be ensured. Many operators are ready to pay a little more to suppliers to avoid the hassles of tracking down pricey products like big amounts of high-quality meat, wines, and spirits.
Regardless, many sorts of supplies, such as dry foods, dairy products, frozen foods, fruit, and fresh meats, require storage. In order to properly manage the specific sorts of supplies, storage facilities for such goods frequently have design requirements that must be integrated into the space.
2. Store refrigerated food in the proper order
The fridge, whether it's a walk-in or a standard upright, is an important part of food storage planning. To prevent deterioration and decomposition, most fresh foods must be kept in the refrigerator. The most fundamental guideline to remember is to keep raw items below, not above, prepared or ready-to-eat foods.
Foods should be kept at 4°C (39°F) or below, which is the safe temperature for refrigerated storage.
Here are some things to keep in mind to keep your refrigerator from breaking down and ruining your food:
On a daily basis, check the temperature of the refrigerator. A thermometer should be included in every refrigerator so that daily measurements may be obtained.

Refrigerators should be kept in good operating order. Maintain a service contract with a local refrigerator repair company on a regular basis.

Most breakdowns are beyond the scope of kitchen workers, but if the refrigerator stops working, make sure the power supply cable hasn't been yanked out or the breaker hasn't tripped.

Refrigerators should be cleaned on a regular basis. To make such cleaning quick and easy, shelves should be shallow and well-vented. Make a timetable to guarantee that refrigerators are cleaned on a regular basis and stick to it.
There are also a few general rules that should be followed by everyone who uses the refrigerator:
Raw foods should be kept below cooked or ready-to-eat foods.

For refrigerated food, develop and implement a FIFO system.

Designate certain spaces in the refrigerator for specific goods, and only keep those items in those areas.

If it's not absolutely essential, don't put hot items in the refrigerator. (Unfortunately, one person's definition of "required" may differ from another's, so make sure to establish guidelines.)

Never keep the refrigerator door open for longer than is absolutely necessary.
3. Regularly check the temperature of foods in coolers and freezers
Refrigerate at or below 40° F (4° C). Set the freezer to 0 degrees F (-18 degrees C). Check the temperature on a regular basis. The most precise and cost-effective method for determining these temperatures is to use an appliance thermometer. You can read more about What Is The Best Alternative To Safely Cooling Foods? to understand how to reduce the temperature of food properly. 
Frozen foods
Frozen foods should be kept at a temperature of –18°C (0°F) or below. Food might get discolored and lose nutritional content if the temperature goes over –18°C. The damage is not repaired by lowering the temperature after it has increased. 
To ensure quality, frozen food should be stored at 18°C or below.
When keeping frozen foods, keep the following in mind:
Fruit and vegetables that are delivered frozen can be stored for months if properly packed. In the freezer, properly wrapped fish and meat have a long shelf life.

Fresh fruit and vegetables must be frozen on the premises, which takes time and may be too expensive to consider. Fruit that hasn't been properly prepped for freezing will keep for a long time.

Freezer burn occurs when frozen items are not properly wrapped, resulting in a loss of moisture that affects the texture and flavor of the food. Freezer burn is indicated by a white or grey dry patch on the frozen product's surface. It's especially dangerous for meat when freezer burning.

When it comes to frozen goods, rotating stock is crucial. In typical chest freezers, such rotation is challenging since it often necessitates the removal of old products before adding fresh stock. When it comes to frozen goods, the temptation is to acquire the unacceptably bad habit of utilizing the last thing purchased first, rather than FIFO (first in, first out).
4. Label and date all stored food
Other than meats, vegetables, and dairy products, everything else has to be kept cool. It's typically preferable to toss anything out if you haven't refrigerated it properly.
A "use by" date indicates that the producer suggests consuming the product before that date in order to get the greatest flavor or quality. The date is not a date for food safety. A product's flavor, color, texture, or nutritional content may change after the use-by date, but it is still wholesome and safe long after that date. If you're not sure or the food appears to be tainted, throw it out.
5. Practice stock rotation using the FIFO (First in, First out) technique
FIFO stands for First-In-First-Out. It is a food storage system that uses a stock rotation system. The items with the earliest best before or use-by dates are placed first, followed by those with the earliest dates. You may ensure that food with the closest best before or use-by dates is utilized or sold first by implementing a FIFO food storage system. FIFO maximizes freshness while reducing waste.
Using a FIFO food storage system is easy and effective, and it guarantees that employees are always aware of what is coming in and out. It guarantees that older items are used or purchased before newer ones, reducing waste.
There are five easy phases to the FIFO method:
Find items that have the earliest best-before or use-by dates

Remove any goods that have passed their expiration dates or are damaged

Put the items with the earliest due dates at the front

New products should be kept behind the front stock, and those with the most recent dates should be kept towards the back

Stock should be used/sold first in the front.
If you decant food from its original packing into another container, remember to label food that doesn't have dates. Chefs will be able to know at a look which ingredients should be utilized first.
FIFO is a never-ending process. When fresh stock arrives, always replenish shelves or refrigerators using the FIFO method so that food may be sold or consumed before it expires. Also, stock refrigerated and frozen foods first, followed by room temperature items.
7. Store food away from walls & at least 6 inches (15 cm) off the floor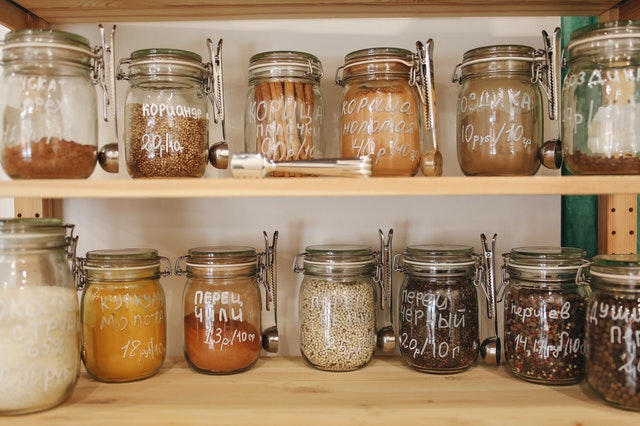 Food should be kept at least 6 inches above the ground and away from walls when being stored. They must also be stored in a way that allows for air circulation; shelves are not coated with foil or other materials to allow for this. To avoid cross-contamination, place ready-to-eat or cooked items above raw ones and cover them carefully.
8. Keep storage areas dry and clean
It's also crucial to keep the right quantity of moisture to avoid drying out, wilting, or early mold. Rather than keeping produce on the counter or shelf, put it in containers with holes to allow air circulation, such as baskets, mesh, or paper bags punched with holes.
If your refrigerator has a fan, which most do, it might dry out your food. In the produce drawer, this impact is generally minimized. If not maintained in a bag, container, or otherwise shielded from the drying impact of the fan, foods placed loosely in the fridge outside of the produce drawer will dry out.
Choosing good-looking food at the shop also helps to avoid early spoiling. If you're not intending to consume them right away, don't buy avocados or bananas that are already mushy or spotted. Make sure your product isn't bruised, discolored, pierced, or otherwise damaged before eating it.
Pre-cleaning fruit can actually lead to mold growth during storage, so wait until you're ready to preserve, prepare, or eat it before washing it. Finally, if you're producing your own food, be sure you understand when it's in season so you don't harvest it too early or too late.
9. Never store chemicals near food
Clean or utilize chemicals away from food
If chemicals are near food, they can readily enter it. Keep them apart to avoid contamination of your meals.
Putting spent or spilled chemicals in their original containers is not a good idea
If a chemical is spilled, it may react with unidentified components on the spilled surface. Discard spilled chemicals carefully to keep them fresh and safe.
Do not keep food in a chemical container
Even though chemical storage containers appear to be clean, they may contain hazardous chemicals. If you put food in them, it might turn poisonous. Dispose of chemical containers appropriately, and only keep food in food-grade containers.
Nobody enjoys returning home or opening their refrigerator to discover that the products they just purchased have gone bad or, worse, are no longer edible. Give some of these food preservation methods a try if you never want to stare at a plate of "meat-cake" or if you're seeking new ways to extend the shelf life of fruits and vegetables you like. You could discover that learning how to preserve food saves you time, money, and waste while also allowing you to enjoy a new kitchen hobby!
FAQs
Storage Fundamentals
Refrigerate or freeze perishables immediately.
Maintain the right temperatures for your appliances.
Check the label for storing instructions.
As quickly as feasible, use ready-to-eat meals.
Keep an eye out for rotten food.
Food may make you severely sick even though it does not appear, smell, or taste rotten.
Conclusion
In conclusion, the ServSafe food storage chart is a valuable tool for ensuring the safety and quality of food. By following proper storage guidelines, such as maintaining appropriate temperatures, organizing storage areas, and rotating inventory, businesses can reduce the risk of foodborne illnesses and maximize the freshness of their products. Remember, proper storage practices are essential for maintaining food safety standards.
What's more crucial? This ServSafe food storage chart might be very useful for people who are studying for the ServSafe exam. Best luck to you!
Visit our website to get free ServSafe practice test for your coming exam! To download, visit our website for your IOS or Android device.